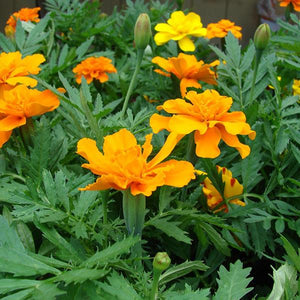 Mini's Lifestyle Hub
Marigold Flower Seeds ( Bhendi )
Regular price
₹ 25.00
Sale price
₹ 35.00
Unit price
per
Tax included.
Shipping
calculated at checkout.
*above specification are indicative only. actual dimensions may vary by +-10%
| | |
| --- | --- |
| Common Name | African Marigold (Yellow),Zendu,Marigold, Genda,Zandu,Banthi Puuvu, Camanti,Chandu Hoovu,Ganda, French Marigold |
| Maximum Reachable Height | 2 to 3 feet |
| Flower Colour | Marigolds are available in a range of gold, maroon, yellow and orange shades. |
| Bloom Time | Spring, Summer, Fall |
| Difficulty Level | Easy |
Planting And Care
Germination from large, easily handled seeds is rapid, and blooms should appear within a few weeks of sowing.
When you water marigolds, allow the soil to dry somewhat between watering, then water well, then repeat the process.
The densely double flowerheads of the African marigolds tend to rot in wet weather.
Do not water marigolds from overhead.
Water at the base of the plant.
Mexican Marigold Care
Sow them directly into the garden once the soil is warm, or start seeds indoors about a month to 6 weeks before the last spring frost date.
| | |
| --- | --- |
| Sunlight | Marigolds need lots of sunshine (at least six hours of direct sunlight) and do well with year-round warm to hot weather |
| Watering | Water marigolds the first 10 to 12 days after transplanting bedding plants into the garden. |
| Soil | Though they grow in almost any soil, marigolds thrive in moderately fertile, well-drained soil. |
| Temperature | Protect this plant from frosts and low temperatures. |
| Fertilizer | Avoid fertilizing the plants. Marigolds thrive in poor soil and fertilizer often creates lush, rich foliage with few blooms. |
---