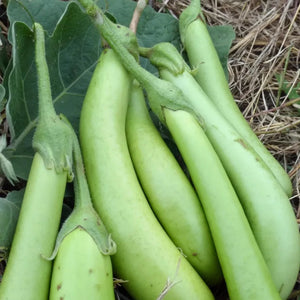 Mini's Lifestyle Hub
Brinjal Green Long Seed | Egg Plant
Regular price
₹ 35.00
Sale price
₹ 55.00
Unit price
per
Tax included.
Shipping
calculated at checkout.
| | |
| --- | --- |
| Common Name | Brinjal, Eggplant |
| Colur  | Green  |
| Bloom Time | Year-round |
| Difficulty Level | Easy |
Care should be taken not to plant the brinjals in a shady portion of the garden
The plants ought to have sufficient sunlight
From time to time, any weeds which might grow in the plant's bed must be removed
The plants should be sprayed with pesticides or insecticides if any disease is noticed
Stake plants over 24 inches tall
Water well and apply a balanced fertilizer every two weeks during the growing season
Sunlight
Full sun
Watering
When it comes to watering eggplants in container gardens, keep the potting soil constantly moist but not soggy
Soil
Sandy, Soil pH: Slightly Acidic to Neutral
Temperature
15 to 38 °F
Fertilizer
Eggplant is a heavy feeder, so when first planting in a plant container, give it a good dose of fertilizer and add lime to the soil because eggplant needs a lot of calcium. Then add fertilizer about once a month while the plant is actively growing.
Harvest Season
Harvest the fruit as soon as it reaches a diameter of 7 to 10 cm (about 3 months after transplanting).
In the case of good irrigation and fertilisation practices, 10 to 12 of them can be harvested from each plant.
Brinjal plants are delicate and care should be taken not to damage the plants during harvesting (the stems are quite brittle).
Cut the fruit with pruning scissors. Handle with care to prevent bruising.
Keep in mind that the shelf life of the fruit is not very long.
---