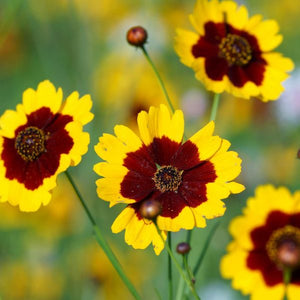 Mini's Lifestyle Hub
Coreopsis Tall Yellow, Hybrid Flower Seeds
Regular price
₹ 35.00
Sale price
₹ 50.00
Unit price
per
Tax included.
Shipping
calculated at checkout.
| | |
| --- | --- |
| Common Name | Coreopsis |
| Flower Colour | Yellow red |
| No. of seeds | 30 |
| Difficulty Level | Easy to grow |
Planting And Care
Coreopsis is a genus of flowering plants in the family Asteraceae. The leaves are alternately arranged. They can be almost any shade of yellow, orange, red, purplish, brown, white, or bicoloured. They are sometimes rolled into a funnel shape. Gaillardias are such long bloomers that they work equally well in borders and containers.
 Coreopsis Use
Coreopsis species are used as nectar and pollen for insects.
They also attract butterflies and small birds, like finches, which are a welcome addition to any garden.
 Coreopsis Use
Sow Coreopsis seeds in well-drained and soil and in a full sun location.
The plant prefers loose, sandy soil that isn't overly fertile with a pH near neutral or slightly alkaline.
Deadheading isn't mandatory, but it may stimulate additional blooms.
Water frequently (every other day or so) until you see the flowers. Once established.
Seeds germinate within 21 to 28 days, so water them regularly.
The Coreopsis plants can also be started from cuttings during spring to mid-summer.
Coreopsis blooms well when it is crowded.
Fertilize the seedling every 10 to 14 days with a 10-10-10 nitrogen, phosphorous, potassium water-soluble fertilizer.
---