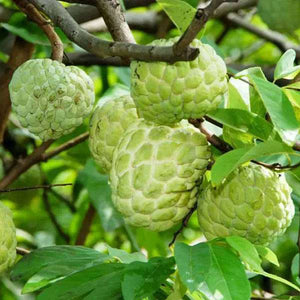 Mini's Lifestyle Hub
Custard Apple Fruit Seeds
Regular price
₹ 29.00
Sale price
₹ 35.00
Unit price
per
Tax included.
Shipping
calculated at checkout.
Custard Apple seeds should only be planted outdoors in frost-free areas protected from cold winds. It is best grown in rich, evenly moist but well-drained soils in full sun to part shade. Tolerates average soils. 
The leaves are thin, oblong while the flowers are greenish-yellow. Flowers are oblong, never fully open, with 1 in long, drooping stalks, and 3 fleshy outer petals, yellow-green on the outside and pale-yellow inside with a purple or dark-red spot at the base. The avoid or conical fruit, with purple knobby skin, is very sweet and is eaten fresh or can be used for shakes. The fruit is juicy and creamy white.
Seeds Specifications
| | |
| --- | --- |
| Common Name | Sugar Apple, Custard apple, Sita Phal, Sharifa |
| Height | 20 to 30 feet |
| Flower Colour | Yellow-green on the outside and pale-yellow inside |
| Bloom Time | Summer, Spring |
| Difficulty Level | Easy to grow |
Planting And Care
Sugar apple is normally fairly low maintenance and quite easy to grow, as long as a level of basic care is provided throughout the year
Growing sugar apple tree requires weed management
the sugar apple is susceptible to wind damage
Therefore, it should be planted in a location that is sheltered from the wind
Annona Squamosa Sharifa Care
Seed propagation is the traditional method, through which the sugar apple tree is grown
Seed should be planted horizontally, 2, 3 cm deep at a distance of 1m
5 cm in a good quality seed mix
Generally, the germination occurs within 30 days
Although, its germination rate is low and time is slow due to the tough seed coating
Plant spacing is 5 X 5 m
The plantation is done in the rainy season
| | |
| --- | --- |
| Sunlight | Full sun to part shade |
| Watering | Medium |
| Soil | Rich, evenly moist but well-drained soil |
| Temperature | 25 to 41 degrees C |
| Fertilizer | Apply any organic fertilizer |
| Harvest Season | Summer, Spring |
Special Feature
The flesh is fragrant and sweet, creamy white through light yellow, and resembles and tastes like custard.
Uses
Ornamental Use:
The plant is used for an ornamental purpose
Medicinal Use:
The bark and leaves contain annonaine, an alkaloid
In tropical America, a decoction of the leaves is used as a cold remedy and to clarify urine
A bark decoction is used to stop diarrhoea, while the root is used in the treatment of dysentery
Sugar-apple is high in energy, an excellent source of vitamin C and manganese, a good source of thiamine and vitamin B6, and provides vitamin B2, B3 B5, B9, iron, magnesium, phosphorus and potassium in fair quantities
Note: USe only after consulting the specialist
Culinary Use:
The ripe fruits are edible
The sweetish fruit varies considerably in quality; some are eaten raw but most often they are used in preserves, drinks, ice cream, puddings etc
---