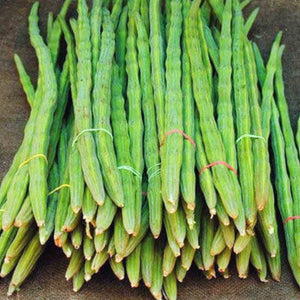 Mini's Lifestyle Hub
Chedi Muringa | Dwarf Drumsticks, Moringa Oleifera Vegetable Seeds
Regular price
₹ 30.00
Sale price
₹ 35.00
Unit price
per
Tax included.
Shipping
calculated at checkout.
Moringa oleifera deciduous tree in Moringaceae family. The tree itself is rather slender, with drooping branches. The bark has a whitish-grey colour and is surrounded by thick cork. The tree has an open crown of drooping, fragile branches and the leaves build up a feathery foliage of tripinnate leaves.
The flowers have five unequal, thinly veined, yellowish-white petals. The fruit is a hanging green capsule.
Plant Specifications
| | |
| --- | --- |
| Common Name | Clarifier Tree, Indian Horseradish, Jacinto, Kelor Tree, Malunggay, Marango, Drumstick Tree, Horseradish tree, Mochaka |
| Flower Colour | White |
| Difficulty Level | Easy |
| No. of seed | 6 |
*above specifications are indicative only. actual dimensions may vary by +-10%
Drumsticks Care
Sunlight
More than 6 hours of direct bright sunlight a day.
Watering
Before water poke your finger/plain small stick into the soil to check the moisture.
Water when topsoil (1-2 inches) feels dry to touch.
Water thoroughly in the summer and reduce watering in the winter and rainy seasons.
Soil
The soil should be well-drained and fertile, rich in organic content for growing plants.
Grow well in the pH range of 6.5 to 8
Temperature
25 to 35 degrees Celsius
Fertilizer
During the main growing season (June-July) feed the plant with organic fertilizer.
Drumsticks Use
Medicinal Use:
Used in urinary problems, reduce inflammation, earaches, Dental caries, as a cardiac stimulant in asthma, Cough, Scurvy, Wounds and eye diseases
Note- Please consults your health advisor before application or consuming of plants or plant parts
Culinary Use:
The soft pods of the drumsticks are utilized broadly within the preparation sambhar that is extremely popular in South India
Note- Please consults your health advisor before application or consuming of plants or plant parts

---