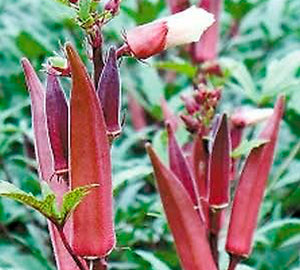 Mini's Lifestyle Hub
Red Venda Seeds | Red Ladies Finger Seeds
Regular price
₹ 35.00
Sale price
₹ 45.00
Unit price
per
Tax included.
Shipping
calculated at checkout.
Description
 Venda / Okra is a tropical plant that is grown as an annual vegetable. Okra plants are extremely drought and heat resistant.
Seeds Specifications
| | |
| --- | --- |
| Common Name | Red Venda, Okra, Gumbo, Ladyfinger, Bhindi,  Abelmoschus esculentus(Botanical name) |
| Height | Grows more than 4 feet and can spread 3 feet wide. |
| Bloom Time | summer |
| Difficulty Level | Easy |
| No. of seed  | 15 |


Planting And Care
Eliminate weeds when the plants are young, then mulch heavily to prevent more weeds from growing
Apply a layer of mulch 4 to 8 inches high
Keep the plants well watered throughout the summer months; 1 inch of water per week is ideal, but use more if you are in a hot, arid region
After the first harvest, remove the lower leaves to help speed up production
Ladys Finger does not like to have its roots disturbed
Ladies Finger Care
You can start okra seeds indoors in peat pots under full light 3 to 4 weeks before the last spring frost date
You can also start okra directly in your garden 3 to 4 weeks before the last spring frost date as long as you cover the plants with a cold frame or grow tunnel until the weather warms up
Make sure that the covering is 2 to 3 feet tall so that the plants have room to grow
If you do not start your okra plants early, wait until there is stable warm weather
You can plant okra in the garden when the soil has warmed to 65 ° to 70 °F
Plant okra in fertile, well-drained soil in full light about 1/2 to 1 inch deep and 12 to 18 inches apart
You can soak the seeds overnight in tepid water to help speed up germination
If you are planting okra transplants, be sure to space them 1 to 2 feet apart to give them ample room to grow
Okra plants are tall, so be sure to space out the rows 3 to 4 feet apart
Sunlight
The plant requires to be grown in the full sun for at least 6 hrs a day.
Watering
Lady Finger can tolerate dry conditions. However, watering may be necessary during extended dry periods. It needs to be evenly moist throughout the growing season.
Soil
Lady s Finger performs best in well-drained, fertile soils in full sun. Avoid wet, poorly drained sites. Soil pH is generally not a problem as okra grows well in soils that are slightly acidic to slightly alkaline (pH 6.5 to 7.5).
Temperature
22 to 35 degree C
Fertilizer
Before planting, apply 1 to 2 pounds of an all-purpose garden fertilizer, such as 10-10-10.
Harvest Season
The first harvest will be ready about 2 months after planting.Harvest the okra when its about 2 to 3 inches long. Harvest it every other day.
Cut the stem just above the cap with a knife; if the stem is too hard to cut, the pod is probably too old and should be tossed.
Wear gloves and long sleeves when cutting the okra because most varieties are covered with tiny spines that will irritate your skin unless you have a spineless variety. Do not worry: this irritation will not happen when you eat them.
To store okra, put the uncut and uncooked pods into freezer bags and keep them in the freezer. You can then prepare the okra any way you like throughout the winter months


How to Plant 
Watch the video to learn more about Ladies Finger Planting & Manuring.
---