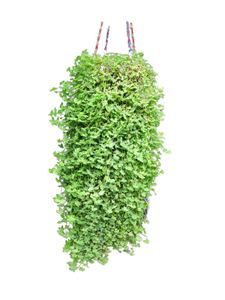 Mini's Lifestyle Store
Turtle Vine Plant | Hanging Plant
Regular price
₹ 69.00
Sale price
₹ 159.00
Unit price
per
Tax included.
Shipping
calculated at checkout.
How to take care Turtle Vine plant:
It prefers a bright indirect light for the best growth and colour. It will tolerate full sun.
It grows well in fertile, moist but well-drained soil and prefers the soil pH range of 5.0 to 6.0.
Water regularly and moderately, always keep the soil moist but never allow your plant to sit in water. During the winter season, water sparingly and only water when the top of soil becomes dry.
Dos and Don'ts after receiving the plant : 
Re-pot the plant immediately after receiving it along with the germinating bag. 
Keep the plant in indirect sunlight for 2 to 3 days.
Always check the soil moisture and keep the plant hydrated all time. Do not overwater it.
Note: Plants will be sent with coco peat or prepared soil. If the plant meets its Temporary Wilting Point(TWP) due to delivery delay or similar issues in transit, customers are requested not to worry. Watering it generously will recover its turgidity. For further information, feel free to contact us.
All the image showing on the product is for a reference, the original product may vary with the image shown.


---