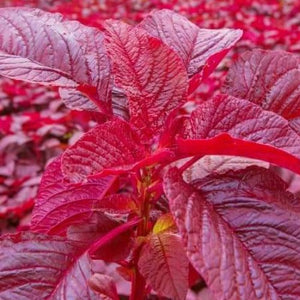 Mini's Lifestyle Hub
Vlathankara Cheera Seeds | Red Spinach , Amaranthus
Regular price
₹ 37.00
Sale price
₹ 55.00
Unit price
per
Tax included.
Shipping
calculated at checkout.
Description
Vlathankara Cheera are high yielding long-lasting Amaranthus plants.
Splendour Seeds – Red Spinach - Amaranthus -Laal Saag- Red Cheera Seeds. In terms of nutritional content, amaranth (both seeds and leaves) are packed with thiamine, niacin, calcium, potassium, iron, manganese, zinc, and copper, and its leaves are a good source of vitamins A and C and folate. As well, its seeds are a great source of dietary fibre. Amarantus are easy to grow in your garden. Annual. Bright red plants that make a stunning show in the garden. Leaves can be harvested young and used like spinach. Flowering amaranth is a beautiful attractor for goldfinches & other birds, and yields tons of seed that can be produced for grain.
Seeds Specifications
| | |
| --- | --- |
| Common Name | Splendour, Red Spinach , Amaranthus , Laal Saag, Red Cheera |
| | |
| Bloom Time | Summer |
| Difficulty Level | Easy |
| Speciality  | More yield from one single plant  |
Planting And Care
---